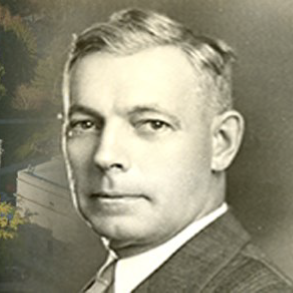 The A. Craig Baird Debate Forum is the recognized undergraduate organization for students who participate in intercollegiate debate tournaments, in the public debates held on campus each semester, or in the outreach programs sponsored by the forum. The forum is named for Professor Baird who came to Iowa in 1925. He was the founder of the international debates and lead consultant for the formation of the NDT.
A. Craig Baird, who built the modern debate program at Iowa and guided it through its formative years, was a remarkable teacher and noteworthy scholar of communication studies. Baird devoted forty-five of his most productive years to teaching at The University of Iowa – eighteen of these after he formally "retired."
The name of A. Craig Baird is virtually synonymous with the history of intercollegiate debate in the United States and with international debate, as well as with the development of rhetorical or communication studies as a respected scholarly discipline in modern times (which has it roots in the rhetorical studies of antiquity).
Dr. Baird's forty-five years of influence on University of Iowa students and on the Department of Speech and Dramatic Art began in 1925. From then until he reached official retirement age in 1952 he was director of the intercollegiate debate and discussion program at Iowa and developed one of the outstanding graduate programs in rhetoric and public address in the country. Though "retired," he continued to teach regularly at The University of Iowa until 1970, as well as at other major universities across the country. His former students at Iowa have gone on to positions of leadership in political affairs, the law, journalism, business, and all aspects of education. Speech departments across the country have been headed by Baird students. Many of his students have become presidents of the National Communication Association (formerly the Speech Communication Association and before that the Speech Association of America), editors of the professional journals in speech, and authors of innumerable scholarly articles and monographs, as well as deans and college presidents.
Professor Baird was not only an outstanding teacher and educational leader, but an innovative and productive scholar as well. He was the author or editor of at least thirty-six books and a great number of articles. His publications spanned a period of fifty-two years.
Modern Mission
---
Professor A. Craig Baird's vision shapes the philosophy of The University of Iowa's forensics programs. At Iowa we believe that: First, you are to have genuine intellectual integrity. Second, we expect you to have social integrity and outlook. Thirdly, your personality reflects moral integrity. You are on the side of truth.
We believe in governance by and through debate. Debate instruction helps students participate more effectively in a variety of contexts of social discussion and decision-making. The experience of debating before lay audiences is an important part of this instructional program.
We believe debate must be a squad effort. Part of learning at Iowa is how to fulfill the expectations of the squad. Each person is responsible for certain assignments. Every team receives a complete set of prepared briefs. Learning to be an active and effective participant of a squad and the values attendant to belonging to a community and building a sense of communal responsibility are integral to becoming an effective, active constitutive member of our society.
We believe that debate is a supplement to, not a replacement for, careful academic preparation. Every Iowa debater over the last decade was graduated from Iowa. All, but two, have gone on to post-graduate work or law school at many of the nation's top programs. One of those two just passed the Foreign Service exam and the other is working in local politics. Iowa is dedicated to promoting excellence in education for its members.
We believe debaters need to make the most of their educational opportunities. Over the years we have been very successful in this endeavor. Iowa debaters have achieved individual success in and out of the classroom. Many debaters study abroad in such places as China, Russia, Japan, and Taiwan. Debaters for Iowa have been inducted into national honor societies for communication studies, business, accounting, and political science. Dr. Hingstman is a faculty advisor for Phi Beta Kappa at The University of Iowa.
Close supervision, expert assistance, and needed resources will be made available. In exchange, Iowa expects members to perform at their very best. We expect students' work will represent well their debate abilities and provide a good model for other members.
Iowa debaters are expected to conduct themselves in an ethical manner at all times. As a matter of policy, students are expected to abide by state laws and the rules governing student conduct.
Professor Baird was always first of all a teacher. His primary interest was in making students better communicators and thus more effective members of society. He was concerned with the whole range of public address but particularly with discussion and debate. He looked upon discussion and debate not as games or busy-work activities but as educational tools, as meaningful practice situations in which young people could learn how to analyze problems and to work with others in arriving at solutions. Hundreds of undergraduates profited from his instruction, and through the graduate students he trained, he influenced thousands more.