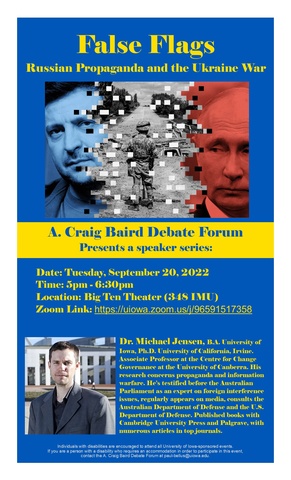 This talk describes Russian narratives related to the invasion of the Ukraine and how those narratives get recirculated in American media. It identifies elites in American politics that have been captured by Russian propaganda, including Iowa's own Chuck Grassley. These figures recirculate and disseminate Russian propaganda messages, knowingly or unwittingly. Tucker Carlson is regularly aired on Russian state television because of his pro-Russia/anti-Biden approach to the war in the Ukraine.
Parts of this discussion were presented by Dr. Jensen at the American Policial Sciences Association conference and from his report to the Australian Department of Defence analyzing Russia propaganda on Twitter and Russian propaganda sources using GDELT. It develops a systems analytic account of how influence operations work.
Dr. Michael Jensen is Associate Professor at the Centre for Change Governance at the University of Canberra. His research concerns propaganda and information warfare. He was a 2021 finalist for a Minerva research grant from the US Department of Defense and has led research projects for the Australian Department of Defence. In addition to consultation work for Australian Defence, he has testified before the Australian on foreign interference issues on five occasions and regularly does media appearances on Australian radio and television. Dr. Jensen has published books with Cambridge University Press and Palgrave and articles in the International Journal of Press/Politics, the Journal of Information Technology and Politics, the Journal of International Affairs, and the Journal of Public Policy. He has previously taught at the University of California, Irvine, the Autonomous University of Barcelona, and the Australian National University's National Security College.
Mike debated for Iowa in the 90s and was renowned for his work ethic and depth of argument production. Later, he contributed to the success of the program as a coach. In 2000 and 2001, Mike was part of the coaching staff that produced two national titles for the A. Craig Baird Debate Forum.