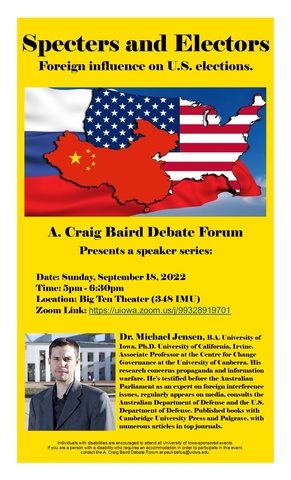 Misinformation, disinformation, and fake news are not new, but what is new about the problem of deceitful weaponizing of information for political effect is more acute today than in a pre-internet era. This talk examines foreign interference in elections past, present, and future, examining operational elements that have not received much attention in media reporting or academic research. Looking at past election interference, the talk will provide new information about Russian trolling efforts in 2016 and the Russian operation to coordinate with American media and politicians to launder and legitimize deceptive narratives about the Biden family in 2020. Looking to the present, the research will present an analysis of Russian and Chinese (PRC) narratives about American political figures and key races during the upcoming midterms. Finally, the talk will outline potential future risks for election interference in the United States, drawing on suspected or confirmed cases of political interference from around the world.
Dr. Michael Jensen is Associate Professor at the Centre for Change Governance at the University of Canberra. His research concerns propaganda and information warfare. He was a 2021 finalist for a Minerva research grant from the US Department of Defense and has led research projects for the Australian Department of Defence. In addition to consultation work for Australian Defence, he has testified before the Australian on foreign interference issues on five occasions and regularly does media appearances on Australian radio and television. Dr. Jensen has published books with Cambridge University Press and Palgrave and articles in the International Journal of Press/Politics, the Journal of Information Technology and Politics, the Journal of International Affairs, and the Journal of Public Policy. He has previously taught at the University of California, Irvine, the Autonomous University of Barcelona, and the Australian National University's National Security College.
Mike debated for Iowa in the 90s and was renowned for his work ethic and depth of argument production. Later, he contributed to the success of the program as a coach. In 2000 and 2001, Mike was part of the coaching staff that produced two national titles for the A. Craig Baird Debate Forum.