Title IX and Campus Politics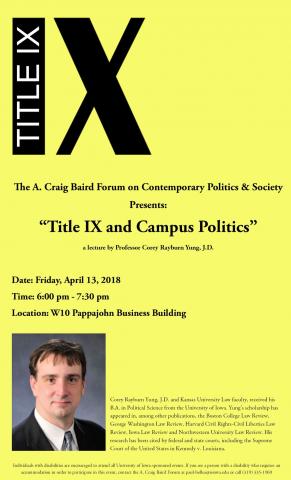 Distinguished alumni Corey Rayburn Yung returned to campus in April to present on important issues regarding Title IX enforcement. Recent events at campuses across the country and the emerging cultural influence of #MeToo have highlighted the ethical necessity of promoting awareness and dialogue to disrupt silence of denial.
Rayburn Yung employed a rich variety of historical and cultural resources to powerfully illustrate how current Title IX controversies arose and developed. Debate helps to train great scholars like Rayburn Yung to become powerful advocates for the A. Craig Baird Debate Forum's motto: Side of Truth.
Coordinator of Forensics Paul Bellus also serves as the Director of Youth Programs at Iowa, a role where he employs his extensive debate skills to proactively craft policies that secure a safe and welcoming campus community for all.