US Foreign Policy Moving Forward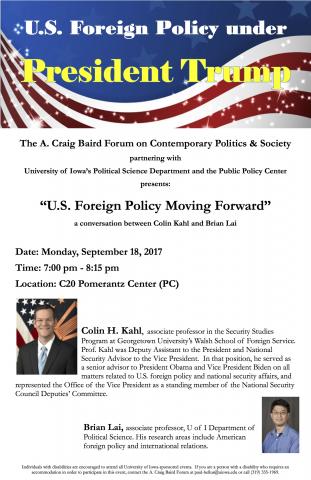 Colin Kahl, former deputy assistant to President Obama and key architect of the Iran Deal, headlined the inaugural Speaker Series event on the future of American foreign policy. His speech proved prescient; less than a year later, President Trump announced that the U.S. would terminate the agreement.
Kahl was considered a luminary in debate for his rigorous focus on finding the best evidence to guide mutually-respectful dialogue. Those skills were necessary during contentious technical discussions with Iranian officials and obviously on display in his brilliant presentation.
Speaking on the value of debate to promote dialogue, Kahl advised the audience "to force yourself to articulate what the other side's argument is...understand that they're coming to an issue from a different perspective, and force yourself to walk a mile in their argument's shoes."
Kahl employs his debate skills in his new role as the inaugural Steven C. Hazy senior fellow at the Freeman Spogli Institute for International Studies' Center for International Security and Cooperation at Stanford University, the next step in a long journey of guiding America's future through spirited debate and dialogue.