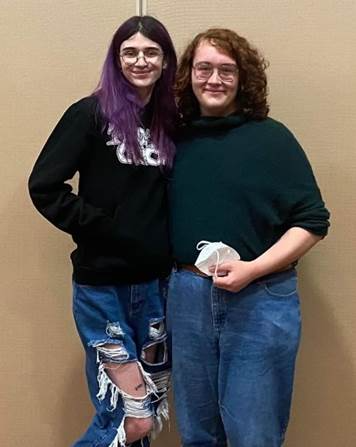 The A. Craig Baird Debate Forum and Iowa Debate announces two new Academic All-Americans in intercollegiate debate. Maeve Ella '24 (left) and Ryan Cavanaugh '24 (right) earned this prestigious recognition through their excellence in the classroom and outside of the classroom.
The All-American Debate Squad consists of the top thirty debaters who represent the best of intercollegiate debate. They're evaluated on competitive success, academic success, good conduct, and contributions to their squad, campus, and communities. No more than two students from a given school shall receive this award.
As a Political Science and American Studies double major, Maeve constantly receives high praise for her contributions to classes. In Fall 2022, she earned the top prize in the American Studies class "Sex & Popular Culture in America" for a project where she created a zine about how trans people experience healthcare which drew heavily on research from this year's topic. This translation of debate's benefits into coursework certainly evidences the kinds of characteristics we aim to cultivate in students. Moreover, Maeve has been recognized on the Dean's List for the last three semesters and will qualify as a cum laude national debate scholar this year given her academic progress overall. She plans to continue developing her scholarly expertise as a graduate student who coaches debate.
Maeve's competitive success spans from her first tournament as a college debater where she won the JV division of the JW Patterson Debates at Kentucky to a highly successful competitor in the 2022-2023 season, where she and Ryan placed 9th in the nation. Maeve's past competitive success includes finishing as a triple-octofinalist at CEDA National Tournament in 2021, a double-octofinalist at ADA Nationals in 2022, and a double-octofinalist at the CEDA National Tournament in 2022. This year, Maeve built on this success by finishing as an octofinalists at Gonzaga, Wake Forest, and Georgetown plus semi-finals at the Brick City Round Robin.
Ryan has considerably grown as a student during their time at the University of Iowa. Entering as a Physics major, Ryan switched to American Studies and Theater. Dr. Naomi Greyser offered Ryan an override to take a graduate course in American Studies as a junior given their writing about queer theory and trans studies proved such high quality that a more advanced course would be beneficial. Along with balancing coursework and debate, Ryan also contributes backstage in the theater department's productions and designs outfits for campus-based art shows related to sustainability. Ryan has made the Dean's List on two occasions and will qualify as a cum laude national debate scholar this year. Ryan plans to continue their scholarly interests after completing an undergraduate degree by attending graduate school in American or Communication Studies. 
Ryan's debate career provides multiple examples to establish their success as a college policy debater. They placed 3rd in that nation at the 2022 CEDA National Debate Tournament. This year, Ryan competed in the octofinals at Gonzaga, Wake Forest, and Georgetown plus semi-finals at the Brick City Round Robin this year, and qualified to the National Debate Tournament. Ryan and Maeve finished the 2023 NDT National Debate Tournament ranked 9th in the nation.
As Departmental Executive Office at Iowa for the debate team, Paul Bellus commented, "an All-American defines an iconic figure. A debater whose excellence, leadership, and influence extends beyond the boundaries of competition. They are ambassadors of debate – not just representing their team but the community of intercollegiate debate. Both Maeve and Ryan fulfill this standard. Their devotion to their activism in debate, across Iowa's campus, and on larger community stages is indicative of their integrity. Their arguments influence discussion outside of debate, even becoming part of academic conversations. Success in the classroom. Success in competition. Success in transferring the skills learned in debate to contribute to their chosen communities. These are reason that justify awarding Maeve and Ryan recognition as All-American."
This recognition was bestowed last night at the opening ceremony of the 2023 Cross Examination Debate Association's National Tournament. Maeve and Ryan shall be debating at this tournament Saturday – Tuesday. Let's wish our Hawkeyes good luck as they make a run for a national title.